Hiking along the beautiful Canadian Rockies at the Alberta and BC border.
We decided on a spur of the moment to travel to BANFF, Lake Louise and Moraine lake, and had a couple great hikes along the way. From watching the sunrise on Lake Louise, to canoeing on Moraine lake, hiking the Sentinel Pass and having tea at the top of Lake Agnes there's no shortage of amazing things to do and beauty to see. For the Moraine adventure we booked the shuttle. This shuttle leaves from the ski lodge located across the highway from Lake Louise. There is ample parking at the ski lodge, but also a shuttle that does round trips from the ski lodge parking lot to the lake Louise parking lot so you can leave your car there also.
A short bus trip later and your at the parking lot for Moraine Lake, the buses park right next to the pit toilets'.
Canoe rentals were a very fun thing to do on this lake. It cost us 110 CAD for one hour rental. The lake is easily paddled and and admired in this time frame. I suggest you get there early, as their rental spaces fill up quick, otherwise you'll be in a long lineup waiting your turn. You can visit the coffee shop for coffee, tea, water and some sweets while you wait though (CASH ONLY).
After paddling the beautiful lake we decided to hike Sentinel pass, which is an 11.1 km hike that begins at the lodge at Moraine Lake, you walk along a peaceful well groomed switchback trail for much of the start, for a total 799 meters of elevation with amazing views of the lake along the way. The lake turns from a turquoise blue, to blue green to brilliant blue again as you climb. There is a fork in the trail with a nice sitting bench, now it decision time. Either you go right through to the Sentinel pass into the Larch valley, or stay left and go to the Eiffel Peak, either way you'll be amazed at the sheer beauty of these hikes.
Larch valley hike is full of beautiful life like small chipmunks, ground hogs, marmots in a well established rock home and many birds. The views are amazing and even in July snow covers the valley. The lake was frozen near the final grind of the hike.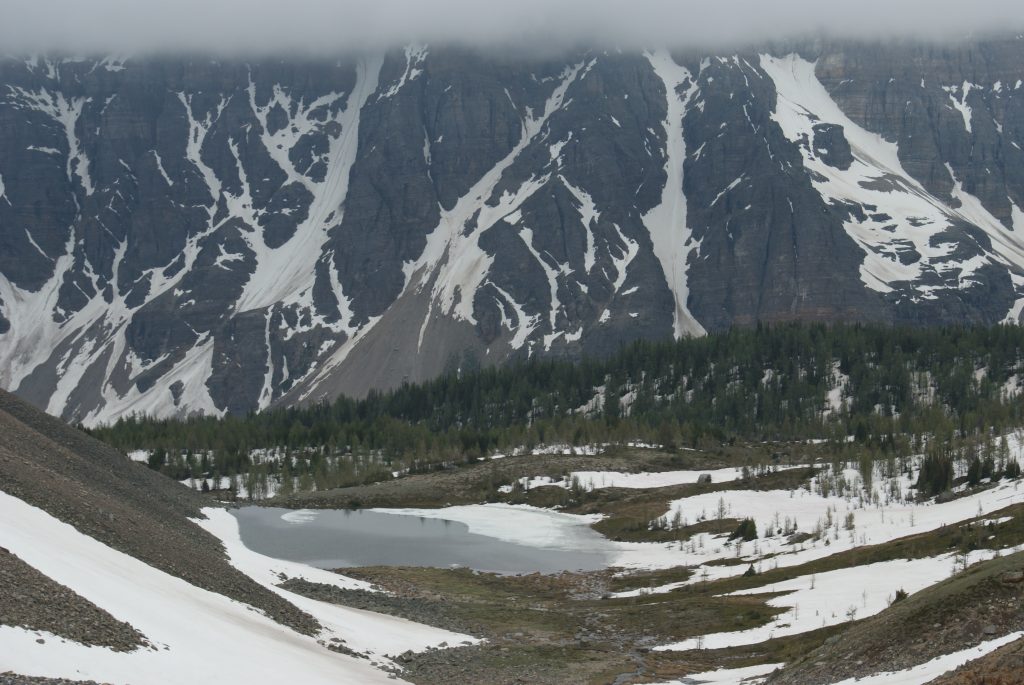 Take your time and enjoy this amazing hike. The buses leave every 20 minutes until 6pm, its hop on (return fee is included in your trip) but make sure you have your slip they give you when you begin. Once again, try not to leave too late since towards 4-6 they are full and lineups get large.
A bunch of pictures below for you to enjoy.